AVA by Downunder Vibrator Stimulator
FROM AUSTRALIA! The most exciting vibrator in years...


It does everything, for everyone!   

"A bird in the hand is worth two in the bush."  

AVA's unique ergonomic design allows you to apply pressure and save your hands from fatigue! This is amazing. Use alone or with a partner in any hole.  Be sure to get a Playtray to set AVA on after use and the vibrator main body, when you remove the silicone sleeve on for cleaning.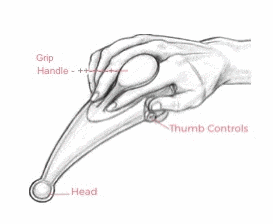 AVA is the latest innovative pleasure product available on the market.  This unique hand held intimate massager is one of a kind.
Combining style with the latest technology, AVA has been created by an Australian team with over 20 years of sexual health design experience.
If you are looking for a vibrator like the one on hit TV show Frankie & Grace, AVA is fully ergonomic and designed to be easily and effortlessly held.
When held between the forefinger and the middle finger, AVA will naturally point downwards into the position ready for use. The rounded tip is where vibration is strongest.
AVA has a removable silicone sleeve, which allows the vibration to be transmitted throughout the body of product so AVA can be used for simultaneous penetration and clitoral stimulation.
The removable silicone shell is waterproof, easy to clean.   
AVA can be used continuously for up to 2 hours on the rechargeable battery.  It has 3 speeds with 2 escalating vibration patterns. 
AVA includes:
Luxurious black 'leather patterned' gift box

USB charger cable

User manual

Satin storage pouch

1 year warranty against manufacturer defect (Warranty claims are settled in Australia)