Beautiful Blue Bundle - Joyboxx + Playtray + AVA Vibrator
The World's Most Versatile Ergonomic Vibrator
The World's Only Hygienic Adult Storage System 
Together
At
Last!
 AVA by Made Downunder

DIRECT FROM AUSTRALIA! The most exciting vibrator in years...


It does everything, for everyone!   

"A bird in the hand is worth two in the bush."  

AVA's unique ergonomic design allows you to apply pressure and save your hands from fatigue! This is amazing. Use alone or with a partner in any hole.  Be sure to get a Playtray to set AVA on after use and the vibrator main body, when you remove the silicone sleeve on for cleaning.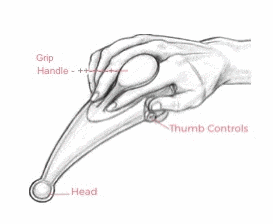 AVA is the latest innovative pleasure product available on the market.  This unique hand held intimate massager is one of a kind.
Combining style with the latest technology, AVA has been created by an Australian team with over 20 years of sexual health design experience.
If you are looking for a vibrator like the one on hit TV show Frankie & Grace, AVA is fully ergonomic and designed to be easily and effortlessly held.
When held between the forefinger and the middle finger, AVA will naturally point downwards into the position ready for use. The rounded tip is where vibration is strongest.
AVA has a removable silicone sleeve, which allows the vibration to be transmitted throughout the body of product so AVA can be used for simultaneous penetration and clitoral stimulation.
The removable silicone shell is waterproof, easy to clean.   
AVA can be used continuously for up to 2 hours on the rechargeable battery.  It has 3 speeds with 2 escalating vibration patterns. 
AVA includes:
Luxurious black 'leather patterned' gift box

USB charger cable

User manual

Satin storage pouch

1 year warranty against manufacturer defect (Warranty claims are settled in Australia)
NOW Paired with Joyboxx + Playtray -
The World's Only Hygienic Adult Storage System
in Beautiful Matching White & Blue!
HOLEistic Design™ for Peace of Mind!
Doctor Recommended
Prevents Germs
Includes 2 styles of Locks
Ventilation Holes - Dry Wet Items Discreetly
USB Size Charging Hole Fits 6 Cables
Hide Joyboxx in plain sight, under the bed, closet, or drawer and it blends right in without any branding. The food-grade plastic and discreet, unisex design are completed with a rich sophisticated matte finish.

Joyboxx fits in most nightstand drawers and with 11.33 inches inside there is room for many products or several large ones. Average number of products that fit inside is 11.
*Note the Hitachi Original Magic Wand does not fit.
Protect yourself, toys and furniture with Playtray! Set your toy or lube on the removable Playtray before and after use, then clean at your leisure. If you don't have time to clean right away, set it back inside Joyboxx without worry.
SO MANY FEATURES AND FUNCTIONS
Includes a FREE PLAYTRAY and EXTRA COMBO LOCK
EASY TO CLEAN!
Alcohol based cleaners, sanitizers or pop in the Dishwasher
PVC, BPA & Phthalate Free
Fits many intimate products
Food-grade, non-porous, recyclable polypropylene;
USB size hole for discreet and sanitary electronics charging
Sophisticated Unisex Design
Protected with Anti-bacterial Additive Gaia 704
Non-locking top compartment for quick access to small items like batteries
Child resistant, removable, quiet finger slide lock
Fits inside most bedside tables and drawers
Hidden ventilation holes helps moisture evaporate and keeps dust out
Antimicrobial agent helps prevent microbe growth such as; bacteria, virus, mold and fungus. 10 hidden ventilation holes plus the USB charging hole help evaporate moisture if you put your products away wet or if lubrication spills. Use a mild cleaner or put Joyboxx in your dishwasher when needed.